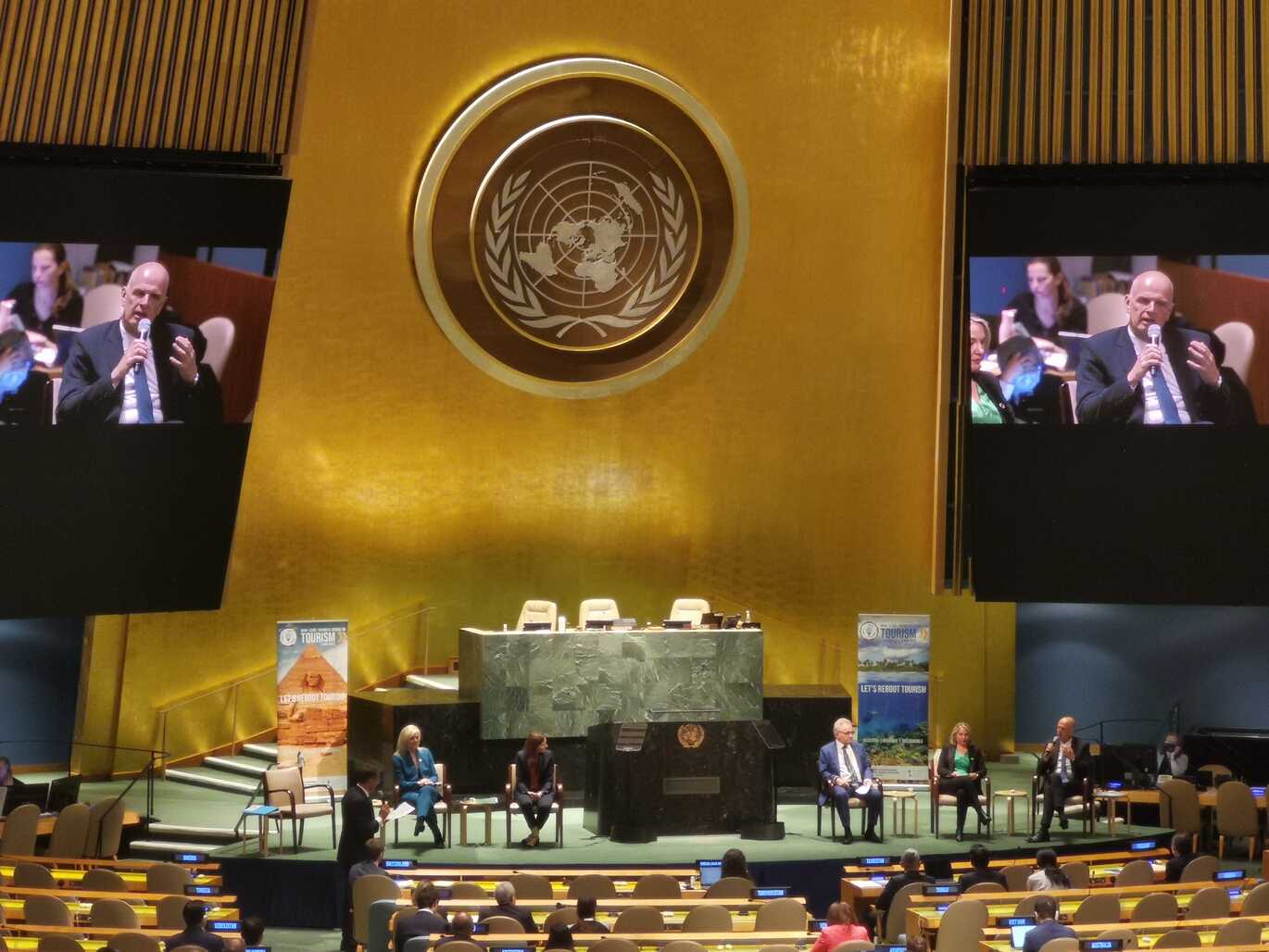 This week Thomas Ellerbeck, Chairman of the Board of Trustees of the TUI Care Foundation and Member of the Group Executive Committee, attended the first ever United Nations General Assembly session dedicated to tourism and its vital role in inclusive recovery and growth.
In a lively Fireside Chat, chaired by CNN's international anchor Richard Quest, Thomas Ellerbeck put the work of the TUI Care Foundation's Corona Relief Programmes in the UN spotlight. The participants discussed the challenges of recovery and how to create economic growth and jobs sustainably. There were also roundtable discussions on the social impact of tourism; accelerating the climate-friendly transformation of tourism; and re-invigorating investments in tourism.
Thomas Ellerbeck said: 'It was my privilege to speak about the work of the TUI Care Foundation at the UN in New York today. It was the first time that the UN General Assembly has dedicated a full session to the tourism sector and its sustainable and resilient recovery. This is testament to the tourism sector as a global force for good and demonstrates the importance of the travel industry as an engine for economic growth and social development, especially for the developing countries of the world. 
The tourism sector is committed to building back better after the pandemic. Local participation up, use of resources down - this is the way to design the tourism of the future.'
The High-Level Thematic Debate was convened by the President of the General Assembly, His Excellency Abdulla Shahid, in collaboration with the World Tourism Organization (UNWTO). Government representatives joined public and a small number of specially invited private sector stakeholders in the General Assembly Hall to discuss tourism's unique ability to drive positive change, after the devastating consequences of the COVID-19 pandemic which is estimated to have cost up to 120 million jobs in tourism.
The session focused on building a more responsible and resilient global tourism sector, with sustainability as its driving force to achieve the UN Sustainable Development Goals (SDG's). It also recognised the importance of tourism to communities around the world, particularly to Small Island States and Least Developed Countries who rely on the income from tourism.
It's inspiring to know that building a sustainable, global tourism sector is now firmly on the international agenda and we're excited that the TUI Care Foundation's work is leading the way for the future.