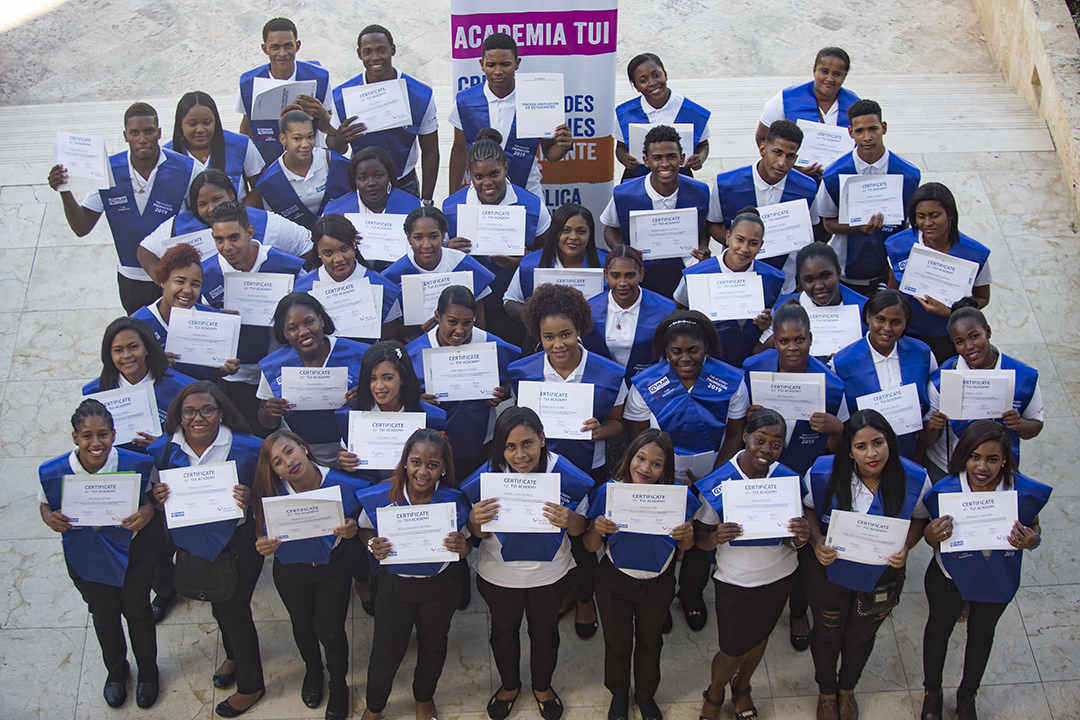 At a sparkling event at the Royalton Hotel Punta Cana, 42 students, including 33 women, celebrated their graduation from the TUI Academy Dominican Republic. Over the past few months, they have worked hard to complete their training and internship programme. Representatives from the Dutch Embassy in the Dominican Republic, the TUI Care Foundation and Plan International attended the event, as well as from Blue Diamond Resorts and the training school INFOTEP. Family members were also there to support the students as they received their certificates.
A career in tourism is the next step for these graduates and something they don't take for granted. With 35% of young people on the island unemployed and 70% of them women, the TUI Academy offers the opportunity to defy the statistics and secure a better future.
For the young people from the most vulnerable communities in La Altagracia province, the TUI Academy model has proven to be a successful formula. Virginia Saiz, Director of Plan International Dominican Republic, explains: "The challenges that girls face in Dominican Republic are massive. One in every five girls is already a mother or is pregnant before turning 18. They are out of school and their dreams and capacity to thrive disappear. This project has been designed to challenge their fate and lift them out of poverty. It's a unique cooperation between the private sector, NGOs and the Dominican government, that works together with youngsters and the communities in which they live."
Yessica, a 19-year-old TUI Academy student, said: "Being part of the TUI Academy has helped me a lot, because if you have children, like me, you can train and do your internship while child minders look after your children. The follow-up we receive from Plan, who visit us in our communities throughout the course, is really valuable. It motivates us to continue and not lose heart when we face challenges."
Lidewij Helmich, Head of Youth Empowerment Programmes at the TUI Care Foundation said to the students: "I am proud to see you've seized this opportunity. Education can change the course of your lives. You develop your technical skills, you develop your personality, you build confidence and develop your own life path. Education empowers. It makes you stronger, wiser and more independent."
The project offers vocational training in conjunction with INFOTEP, the Professional Technical Training Institute in the Dominican Republic. Students can choose an area of expertise: hotel reception & administration, bartending, housekeeping or kitchen assistant. Both professional and life skills are offered as part of the first three months' training, including conflict management, personal development, gender equality and reproductive health. The students then undertake a 3 month internship at one of the Blue Diamond Resorts. Their industry standard training means that many of them are offered a six-month work contract by the hotels, once they have successfully completed the programme.