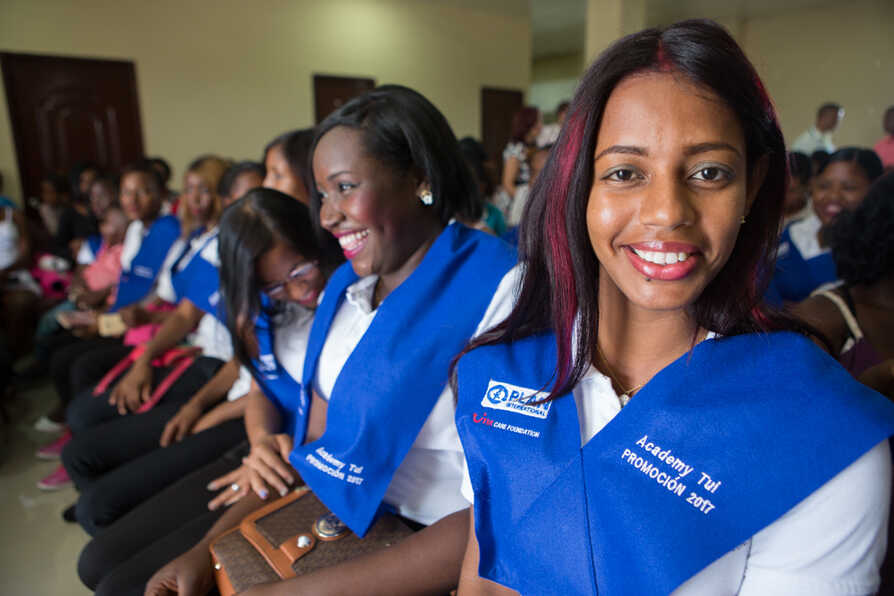 Bávaro, Dominican Republic - TUI Care Foundation and Plan International in the Dominican Republic celebrated the first graduation of students from the TUI Academy, founded with the aim of "creating economic opportunities for young people in the Dominican Republic".
During the graduation ceremony 46 students received their certificate and have seized the opportunity to build a better path in the tourism sector. For most of them, this is a leap forward in their personal and professional development after having faced conditions of vulnerability and multiple barriers. Their proud family members and friends present at the ceremony, witnessed the Mayor of Bávaro presenting the graduates with their diploma.
The TUI Academy is a model developed by TUI Care Foundation and Plan International in partnership with the TUI Group´s Blue Diamond Resorts. The TUI Academy is seen as a formula with huge potential for young people from the poorest communities in the Eastern region, especially single mothers, to join the world of work. A dream come true for those who, in the past, often saw doors closed for not having a diploma, a basic level of English, or good references. Young mothers are supported with childcare for their children under the age of five while they are in training. "The TUI Academy aims to empower young people, especially women, from the poorest communities in La Altagracia Province by offering them access to job opportunities and motivating them to make informed decisions about their lives," explained Silvio Minier, Program Manager of Plan International Dominican Republic.
Currently, the recently graduated students are in the process of being hired and start their first formal employment of six months at one of the Blue Diamond Resorts.
Elise Allart, TUI Care Foundation Executive Director of Programmes and Operations, explains: "We started this project in the Dominican Republic because we noticed that there is high youth unemployment, especially among young women. A lot of these women are already mothers, some already have several children even though they are only 18 or 19 years old. We started this project to give them a chance for a better future by training them in jobs that fit the tourist industry."
Youth unemployment in the Dominican Republic is at 35%, out of which 70% are women. Many young Dominicans grow up in poor communities where there are very few opportunities to develop and build a better future for themselves. Despite the booming tourist industry, there is a growing gap between the rich and poor in the Caribbean country. Also the teenage pregnancy rate in the country is extremely high with 21% - which is twice the worldwide average. With 6 million tourists visiting the island each year TUI Care Foundation and Plan International developed the initiative to address these issues by bringing education and employment opportunities in the growing tourism sector to young women and men people in the country.
"This project has created a pathway for each of my companions, especially for the young women who are single mothers and do not have support from the fathers of our children. Being mothers does not prevent us from moving forward, because we can succeed and be who we want to be," Lucia, one of the recently graduated, says with emotion.
Students can choose to study housekeeping, bartending or kitchen assistant. As well as learning these technical skills, the students receive life coaching in their personal development with a focus on gender empowerment. In addition, they learn to speak basic English and gain practical work experience during an internship at one of the Blue Diamond Resorts. Young mothers like Lucia are additionally supported with childcare for their children under the age of five while they are in training.
Lucia recently graduated from the project as a bartender and after completing her three-month internship she will be offered a six month job guarantee at one of the Blue Diamond Resorts in the Punta Cana region. "We all have a future. My dream is to become a gynaecologist one day while my passion is to be a bartender. I urge you to follow your dreams because this path that we are treading does not end here," Lucia says.
Following the success of the partnership between the government, the private sector and NGOs, TUI Care Foundation & Plan International Dominican Republic announced during the ceremony the start of the recruitment of the second group of students, for which they are currently receiving applications. New trainings are scheduled to begin in May 2018.
The TUI Academy programme is one of TUI Care Foundation´s strategic focus areas. With academies in multiple destinations from Namibia and Sansibar to the Dominican Republic the foundation aims to use the potential of tourism as a source for good to open up new perspectives for young men and women. Elise Allart from the TUI Care Foundation: "The TUI Academy is beginning to build strong bonds with the local communities to create better chances for young people. These young women and men are an example of hard work and commitment, and we are happy to see their efforts yield results. We trust this is the beginning of a much better future for each of them. And as TUI Care Foundation, we are committed to build on this success and create more chances in the future."